Nitehawk-SB by LDO is a toolboard specifically designed for the Voron Stealthburner toolhead. It is a toolhead PCB featuring RP2040 MCU, TMC2209 stepper drive, ADXL345 accelerometer all integrated into one board. The form factor of Nitehawk is based on HartK's two piece stealthburner toolhead PCB but with some minor changes.
Nitehawk uses USB communication with the RPI rather than CAN. So the software and hardware setup is far simpler and familiar to most people who have setup Klipper printers before
Convenient wiring, no more complicated and error prone breakout cables - nitehawk only requires 24V power and a USB connector to the RPI host.
USB Klipper connection, no additional software or hardware setup compared to CAN
Custom toolhead cable, a single combined USB data and power cable rated for drag chain use, but can also be used in umbilical configuration.
Convenient Input Shaping, run input shaper calibration at anytime with an onboard accelerometer.
Tacho enabled fans, both hotend and part fan ports are three pin tachometer compatible, allowing for additional diagnostics and safety.
The Nitehawk system consists of three PCBs and the Umbilical Cable. A simplified wiring diagram is shown below:
Nitehawk-SB, this is the main PCB, which houses the MCU, stepper driver, fan drivers, and other circuits.
Fan Adapter, this is simple PCB receives the part fan, hotend fan, and neopixels and connects them to the main Nitehawk PCB via headers. The main purpose of this seperation is to allow the Stealthburner front to be easily detactable for maintenance.
Umbilical Cable, this is a custom flex cable that is rated for drag chain use. It delivers 24V power to the main Nitehawk PCB while also carrying USB data.
USB Adapter, this simple PCB combines 24V power from the power supply and USB data from the Raspberry Pi into a unified connection to the main Nitehawk PCB via the Umbilical cable.
Nitehawk-SB works with the a standard Stealthburner toolhead, and is compatible with both Clockwork 2 and Galileo 2. However a few additional custom printed parts. The printed parts are available in the Nitehawk github repo https://github.com/MotorDynamicsLab/Nitehawk-SB
USB Adapter Mount, this is the mount for the USB adapter PCB. It is designed to be used with a standard Voron DIN clip and can be mounted in two different orientations. It also features a cover to reduce the chance of static discharge onto the PCB.
Cable Door, this part has been slightly modified from Hartk's original, with a zip tie anchor added for the external chamber thermistor. The door also accepts a Mx3 Captive screw so it doesn't get lost easily when you open the door.
Chain Anchor Tilted, This is tilts the drag chain ever so slightly to help it clear the left XY joint and also avoid rubbing the CT connector on the toolboard.
¶ Firmware Setup and Update
Before compiling the firmware, you will need to have klipper already installed on your Raspberry Pi.
Login to the Raspberry Pi and run the following commands to open the firmware configuration interface:
cd ~/klipper
make menuconfig
In the configurator, Enable extra low-level configuration options, choose Raspberry Pi RP2040 and USB Communication interface, leave everything else as default: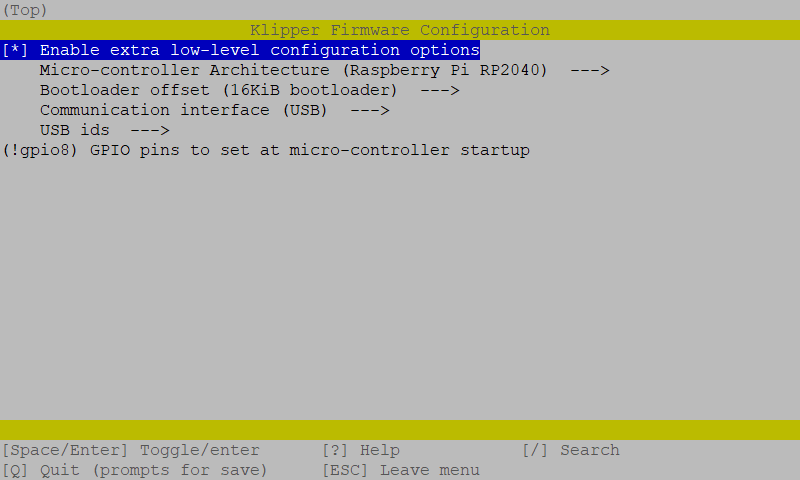 Quit the configurator (by pressing Q, save when prompted). And Run the following to generate the firmware file:
make clean
make
A firmware file called klipper.uf2 will now be generated and can be located in the directory ~/klipper/out.
An easy way to access this file is to copy it to a directory that you can access via Fluidd/Mainsail: (if one doesn't work then try the other)
cp out/klipper.uf2 ../klipper_config/klipper.uf2
or
cp out/klipper.uf2 ../printer_data/config/klipper.uf2
You can now download the file from the same interface used to access the config files: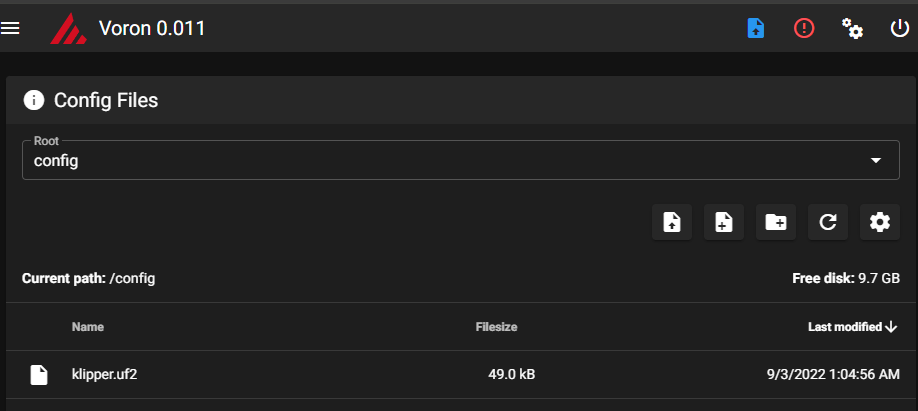 When you update Klipper on your Raspberry Pi, you may be required to also update the firmware on your controllers from time to time. This method is therefore more convenient if your frame PCB already has Klipper firmware installed and is already wired to the rest of the printer.
Login to Raspberry Pi and run ls /dev/serial/by-id to find the USB ID of your frame PCB. The USB ID should have a format similar to this: usb-Klipper_rp2040_1234567890000000-if00.
Follow the steps from compiling the firmware to make sure that the firmware configurator is setup correctly.
Run the following commands, which will automatically compile, and then upload the firmware to the MCU directly:
cd ~/klipper
make clean
sudo service klipper stop
make flash FLASH_DEVICE=/dev/serial/by-id/<your USB ID>
sudo service klipper start
If you encounter any connection issues after flashing the new firmware, reboot your printer. Your frame PCB should now have the newest firmware.
This method is only recommended if your Nitehawk toolboard does not contain a Klipper firmware already flashed. It requires you to access the boot0 button on the PCB.
Make sure the Nitehawk toolboard is wired as it normally should be: umbilical to the USB adapter, 24V power connected, USB connected to the Raspberry Pi. Remove any other USB devices from the Raspberry Pi for now. Power up the system, in particular the toolboard and Raspberry Pi.
Simultaneously press the Boot0 and Reset button on the toolboard, then release Reset first followed by Boot0.
Login to the Raspberry Pi. If the previous step was followed correctly, you should see /dev/sda1 when executing the command ls /dev/sda. If not, try repeating the previous step.
Run the following commands, which will copy the klipper firmware to your toolboard:
sudo mkdir -p /mnt/pico
sudo mount /dev/sda1 /mnt/pico
sudo cp ~/katapult/out/katapult.uf2 /mnt/pico
sudo sync
sudo umount /mnt/pico
A Klipper Configuation can be found in the Nitehawk-SB github repo here. Remember to comment out tachometer_pin and tachometer_ppr configurations if you do not plan to use a tachometer enabled fan.
Provided in the github repo is an optional tacho_macros.cfg file which contains the macro PREFLIGHT_CHECK. This macro very briefly turns on the part fan and checks the tachometer signal to see if the fan is spinning properly. To use the macro, [include tacho_macros.cfg] in printer.cfg and call PREFLIGHT_CHECK at the beginning of the PRINT_START macro
¶ Port and Pin Definitions
| | | | | |
| --- | --- | --- | --- | --- |
| Device/Port | PCB Label | Connector Type | RP2040 Pin | Description |
| X/Y Endstop | Endstop | JST-XH 4P | gpio13/12 (X/Y) | Connects to the X and Y dndstop. X endstop is gpio13 and Y endstop is gpio12. |
| Hotend Heater | HE0 | Screw Terminal / E0506 | gpio9 | Connects to the hotend heater. |
| Hotend Thermistor | TH0 | JST-XH 2P | gpio29 | Connects to the hotend thermistor. Uses a 2.2kΩ pull up resistor. |
| Part Cooling Fan | PCF (Fan adapter PCB) | JST-PH 3P | gpio6/17 (fan/tacho) | Connects to part cooling fan (via the fan adapter PCB). The fan control pin is gpio6 and the tachometer sensor pin is gpio17. |
| Hotend Fan | HEF (Fan adapter PCB) | JST-PH 3P | gpio5/16 (fan/tacho) | Connects to hotend fan (via the fan adapter PCB). The fan control pin is gpio5 and the tachometer sensor pin is gpio16. |
| Chamber Thermistor | CT | JST-PH 2P | gpio28 | Chamber Thermistor port. Connects to an external thermistor. Uses a 4.7kΩ pull up resistor. |
| Probe | PROBE | JST-XH 3P | gpio10 | Probe for bed leveling and/or Z sensing. 24V power only. |
| Motor | MOTOR | JST-XH 4P | gpio23/24/25/0/1 (step/dir/ena/uart/tx) | A stepper motor port for the extruder. Driven by a TMC2209 chip. The current sense resistor is 100 mΩ. Enable is active low |
| Neopixel | LED (Fan adapter PCB) | JST-PH 3P | gpio7 | Connects to neopixel LEDs (via the fan adapter PCB). |
| Activity LED | ACT | N/A | gpio8 | A small software controlled onboard LED. Active low. |
| Accelerometer | N/A | N/A | gpio21/18/20/19 (cs/clk/mosi/miso) | ADXL345 accelerometer for input shaping. Controlled via software SPI. |
| | | | | | | |
| --- | --- | --- | --- | --- | --- | --- |
| Parameter | Symbol | Minimum | Typical | Maximum | Unit | Comments |
| Power Supply Input | Vin | 20 | 24 | 28 | V | power input for the entire frame PCB |
| 5V Current | Irpi | | | 5 | A | current output for the 5V buck converter |
| Fan Current(HEF, PCF) | Ifan | | | TBD | A | current rating for each fan port (HEF and PCF). |
| Hotend Current | Ihe | | | TBD | A | limited by max. continuous current of mosfet |
Q. I have an LDO V2.4/Trident Kit, the fan adapter PCB provided looks identical to the one in the kit are they interchangeable?
A. Yes! The fan adapter PCB is 100% the same as the one in the current LDO kits.
Q. Can I use the provided cable in a drag chain or umbilical setup?
A. Yes! The included toolhead cable is drag chain rated but also easily set up for umbilical use.
Q. I see that there is a 4pin XY endstop connector, what is that for?
A. Since there is no longer any breakout PCB, the XY endstop can instead be routed a short distance through the X drag chain and into the toolboard. Of course, you can also opt to route directly back to the mainboard or just use sensorless homing.
Q. What is the ACT LED for?
A. That's just a controllable LED, you can find it in the klipper config we provide. It doesn't do anything else otherwise.